Maintenance service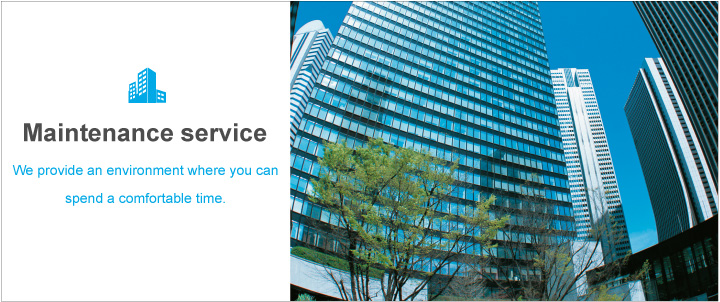 We provide cleaning and maintenance services can respond to the needs of a wide range of facilities, including office buildings, factories, government offices and educational institutions. Not only that, we provide you the efficient service that are green space management, maintenance for electrical and air conditioning equipment, air enviroment and water quality inspections, hygiene management.

● Service list
Cleaning up
University
Keep green and hygiene environment in campus area.

詳細

Building
We can manage the inside and outside of high-rise buildings.

詳細

Hospital
We use special technology's machine that suppresses dust and bacteria growth.

詳細

Showroom
Meticulous cleaning by paying attention to every corner.

詳細

Factory
Effective and safe management.

詳細

Special cleaning
We can flexibly respond to your needs that you can't normally do.

詳細

Green space management
Provide beautiful scenery throughout the seasons.

詳細

Landscaping
Create a lushly green environment that give you comfortable time in urban living.

詳細

Hygiene management
We maintain a safe and secure hygiene environment.

詳細

Training for staff
We have a own trainning room to improve our skills.

詳細
Maintenance
Renovation for water supply pipe
We renovate deteriorationed water pipes.

詳細

Cleaning for water storage tank
We have Hi-tech capabilities to clean the inside of water tanks.

詳細

Cleaning for drain pipe
Please consider regular survey and cleaning of pipe before it gets clogged.

詳細

Painting
Keep a beautiful appearance of building for a long time.

詳細

Remake & Renovation
From partial repair to complete renovation, we make your living space more comfortable.

詳細
Facility management
Facility management
Our systematic maintenance and inspection for the equipment function will provide you comfortable time.
詳細
● Flow of contract
We offer variety of proposals to meet your needs.
| | | | | |
| --- | --- | --- | --- | --- |
| | | | | |
| Please feel free to contact us. | We can check your site and make the best proposal in advance if necessary. | We will promptly submit you it. | Please consider about our proposal. | We will execute the service with safety. |